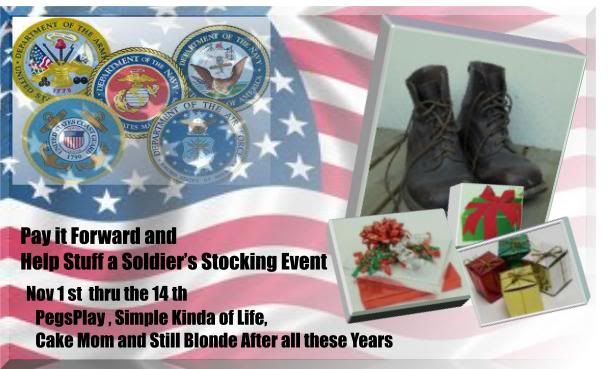 As I mentioned before, there is a fabulous event coming to several blogs. Peggy from
Peg's Play
is heading this great event which is going to help raise some money and allow blog readers to win prizes with an option to "pay it forward" on several blogs by donating their prizes from the event to troops in exchange for a $10 gift card. Rather keep the prize? That's okay too!
Here on Cake Mom, I am going to be hosting a gift card giveaway every 2 days between November 1-14th (thanks to a Secret Santa). Although the "pay it forward" option is not occurring on Cake Mom, you will have the opportunity to donate money for some bonus entries. This is a great way to say "thank you" to the ladies and gentleman fighting overseas who will be away from their loved ones this holiday season.
So, want to get a head start on entries? Grab the Soldier's Stocking Stuffer button on my sidebar and place it on your blog before 10/10. Do so, leave a comment below now,and you can get bonus entries once the giveaways are posted. This will count for contests on all of the sites participating!